Welcome to Spa Specialist
If you have ever thought of purchasing a spa or a hot tub, you know what the challenges are. Finding the right one is no cake walk and it takes hours to get one of your choice. The spa market can be very confusing due to different kinds of brands, types, colors, features, accessories, and so on. Well Spa Specialist has the answer! They feature the ever amazing Haven line of spas. At Spa Specialist they are able to offer you the highest quality spa and hot tub lines available anywhere!
James Arjuna of Spa Specialist is able to bring to your home, deck, gazebo, or any place of your choice the Haven Spa and hot tub lines at an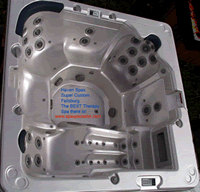 unbelievable price, WITHOUT sacrificing any quality, design, or innovative features. They are able to make this possible by working directly with the consumer. At Spa Specialist their name and reputation of having the best line of spas and hot tubs, the Haven Line, is what they are known for. And due to this, and unlike any other spa and hot tub lines out there in the market, they put their money where it counts! Spa Specialist does not need to use shinny and glossy marketing brochures or expensive TV and radio ads. You won't find a football field of fast talking commissioned sales employees, or full page newspaper ads. Instead you will find the Haven Spa and Hot Tub lines that pushes their competitors into a small corner!
Once you have experienced a Spa Specialists Haven Line like the Provence Model, Eclipse, Vista, SE Model, and their Paramount models; you will never look at another spa or hot tub the same way anywhere! The first you notice when looking at one of these spas, is the amazing detail, quality and amazing features. Then naturally you will glance at the price only to be shocked in full disbelief and must think someone forgot to add an extra zero to the end of the price!
At Spa Specialist you don't have to be some high-end celebrity or have a mansion at the top of hill to own anyone of their Haven line of Spa's and Hot Tubs. Spa Specialist's doesn't discriminate on one ounce, from the best quality and powerful performance, down to the price to fit anyone's budget!